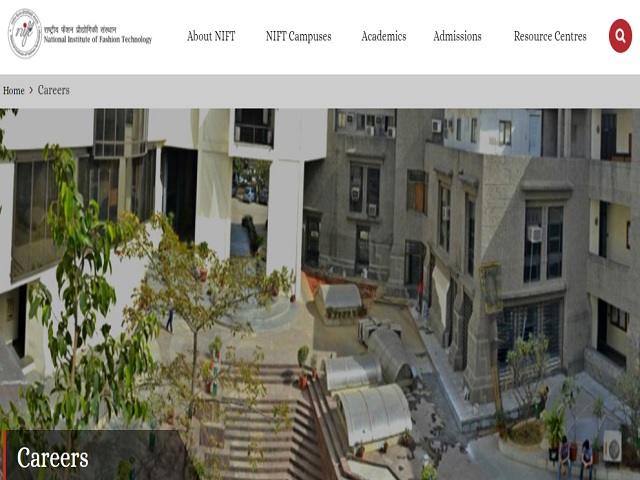 नेशनल इंस्टीट्यूट ऑफ फैशन टेक्नोलॉजी (NIFT) भर्ती 2021: नेशनल इंस्टीट्यूट ऑफ फैशन टेक्नोलॉजी (NIFT) ने प्रोफेसर पदों के लिए आवेदन आमंत्रित किए हैं। इच्छुक और पात्र आवेदक 07 मई 2021 को या उससे पहले निर्धारित आवेदन प्रारूप के माध्यम से नेशनल इंस्टीट्यूट ऑफ फैशन टेक्नोलॉजी (एनआईएफटी) नौकरी अधिसूचना 2021 के लिए आवेदन कर सकते हैं।
NIFT ने प्रोफेसर की रिक्ति के लिए नौकरी अधिसूचना की घोषणा की आधिकारिक तौर पर जारी किया गया है। इन नौकरी के उद्घाटन के लिए एम.फिल / पीएचडी पास आवेदन कर सकते हैं। पात्रता मानदंडों को पूरा करने वाले व्यक्ति आधिकारिक वेबसाइट nift.ac.in पर आवेदन कर सकते हैं।
महत्वपूर्ण तिथि:
आवेदन जमा करने की अंतिम तिथि: ०। मई २०२१
नेशनल इंस्टीट्यूट ऑफ फैशन टेक्नोलॉजी (निफ्ट) के प्रोफेसर विवरण
पात्रता प्रोफेसर नौकरी
किसी मान्यताप्राप्त विश्वविद्यालय / संस्थान से किसी विषय में प्रासंगिक किसी भी विषय में पीएचडी, जैसा कि किसी मान्यता प्राप्त विश्वविद्यालय या शिक्षण या अनुसंधान या संबंधित उद्योग में संस्थान में कम से कम पंद्रह साल के अनुभव के साथ संलग्न है। आयु सीमा: 50 साल।
वेतन: पे लेवल / पे बैंड: लेवल -13 (7 वां सीपीसी) / पीबी -4 [Rs.37, 400-Rs. 67,000 + Grade Pay Rs.8, 700 (6th CPC).
How to Apply
Interested and eligible applicants can apply for National Institute of Fashion Technology (NIFT) Job Notification 2021 through the prescribed applications format on or before 07 May 2021. The application along with relevant documents self-attested copies in support of qualification, experience, age, caste certificate (where applicable) and non-refundable demand draft(where applicable) on account of application fee may be forwarded to "The Registrar, NIFT Campus, Hauz Khas, Near Gulmohar Park, New Delhi- 110016" by 07 May 2021. Applications not forwarded through proper channel or those received without the requisite certificates and necessary documents, or received after 07 May 2021 will not be entertained. The candidates who apply for the post will not be allowed to withdraw their candidature subsequently.